Can Amazon afford to get into the ad business?
If you search for dog food on Amazon, you'll probably find a bag with a picture of a woman perched on an ocean cliff patting a fluffy, golden dog.
It looks like any of the thousands of dog food choices on the site. But the ordinary packaging and description mask a significant development. That brand is called Wag, and it's made by Amazon itself.
With its launch in May, Amazon charged into the pet food market.
After mastering how to sell everyone else's stuff, Amazon has sharpened its focus. Now it's trying to persuade shoppers to buy its own products.
It's succeeding. Amazon's private label sales will reach $7.5 billion this year, analysts at SunTrust Robinson estimate. By 2022, they are expected to hit $25 billion.
The shift has enormous implications not just for Amazon's customers, but for its brand partners.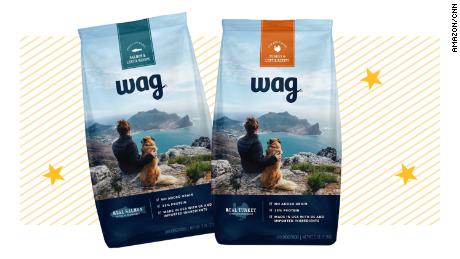 Rapid ramp-up
Amazon (AMZN) created its first private label brand in 2007, when it started selling bedding and bath products under the Pinzon line.
Since then, Amazon has added 125 other brands, according to TJI Research, which tracks Amazon's growth. The collection includes everything from paper towels and toilet paper under the name Presto! to T-shirts and shorts for kids labeled Spotted Zebra.
And Amazon is accelerating its private label strategy. It has introduced about six dozen brands in the past 18 months, according to a study by Evan Neufeld and Cooper Smith, analysts at research firm Gartner L2.
Last week, Amazon rolled out an AmazonBasics memory foam mattress.
Friend or foe?
Some of the brands Amazon produces carry its name, such as AmazonBasics or Amazon Essentials, but most sound like they were pumped out of a generic brand engine: True Angel sweaters, Indigo Society jeans, Crafted Collar button-downs.
Amazon closely guards its sales data, but the company told CNN Business that its private label growth was "notable" in categories such as paper products, diapers, coffee pods, and vitamins and supplements.
Batteries, lightning and computer cables, paper shredders, office chairs, light bulbs, and pet crates are some of its top-selling AmazonBasics products.
In July, Amazon leveraged Prime Day to spotlight its emerging private label roster. It offered up to 25% off furniture and decor from Rivet and Stone & Beam, 20% off AmazonBasics items, and 30% off everyday essentials from Presto!, Mama Bear and Solimo.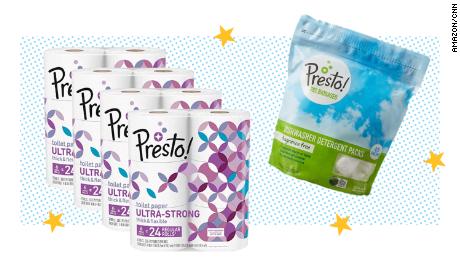 Despite the increasing prominence of private labels, the company has stayed quiet about its plans. In March, however, David Fildes, Amazon's director of investor relations, offered clues to a broader strategy.
Amazon's private label products were designed to "supplement" the choices customers can find on the site from name brands, he told analysts. "We look for ways to be able to find private label items that have a high caliber of quality, but also can bring that selection and that convenience for customers."
Fildes pointed to men and women's clothing and food brands, including Whole Foods' 365 store label, as some of the most popular lines. (Amazon bought Whole Foods last year for $13.3 billion.)
"We'll keep adding selection," he said.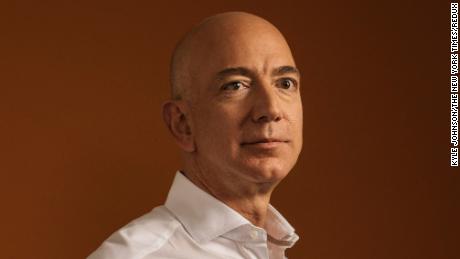 But as the company muscles into new industries and becomes more aggressive promoting its own products, established manufacturers are growing concerned: Is Amazon a neutral platform to sell products through, or a threat to business?
Amazon says outside brands are still the best sellers across its site.
Damon Jones, a vice president at Procter & Gamble, is confident that P&G will still be a leader in product innovation and growth, despite Amazon's private label expansion. P&G makes Tide, Bounty, Charmin and Pampers, among many other well-known brands.
But Jones acknowledged that "it does up the ante for us to ensure our products are noticeably superior."
Fashion push
Over the past two years, Amazon has invested heavily in men's and women's fashion lines, adding dozens of brands.
Bolstered by these new labels, Amazon will soon hit a milestone: The company will overtake Walmart this year as the largest clothing seller in the United States, according to Morgan Stanley.
Amazon is wading into fashion in part because many brands like Ralph Lauren, wary of ceding control over their products or prices, have refused to sell on Amazon.
So Amazon is stepping in with choices of its own: activewear brands like Core 10 and Peak Velocity, Goodthreads casual men's shirts and pants, Paris Sunday dresses and tops for women, and Mae bralettes and panties.
Clothing and shoes represent Amazon's largest private label offering, according to a recent report by retail think tank Coresight Research. Amazon sells close to 5,000 of its own clothing items.
Coresight found that the average private label clothing item on Amazon costs $38, suggesting it is a mid-market seller like Macy's or Kohl's. But Amazon offers a wide range of prices that play all sides of the market.
Here, Amazon stands in contrast to Walmart, which has been forced to acquire premium brands like Bonobos, ModCloth and Moosejaw to boost its image among wealthier shoppers. Amazon already appeals to higher-end shoppers, and can offer its own brands up and down the income ladder.
For example, it offers both a $110 formal dress for women from Social Graces and an $8 sweatshirt for girls under Scout + Ro.
Happy Belly trail mix
Amazon constantly experiments with its private labels, testing to see what shoppers prefer.
It offers different prices on similar items to gauge customer reaction. Goodthreads' best-selling men's shirts are 60% more expensive on average than Amazon Essentials' shirts.
And as it develops new private label brands, it starts by testing sample products.
Take Amazon's 2017 launch of Mama Bear baby care products. It started by selling diaper pail refills and quickly added Mama Bear diapers and later baby food. In the early months, Amazon offered the products at discounts.
Amazon's next move is usually to sit still and watch. It waits, sometimes for more than a year, and it collects data to understand how products are resonating with shoppers.
When it launched Happy Belly, shoppers were buying far more trail mix than spices — so Amazon soon tripled its assortment for trail mix and nuts, while winding down choices for spices.
Once Amazon discovers which products are succeeding, it will double down on production and increase their visibility by advertising them on the site, Ojastro Todd, a marketing analyst at data analytics firm One Click Retail, noted in a report.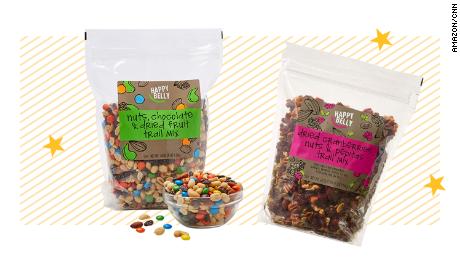 Private label strength
Offering store brands was a tried and tested strategy for retailers and grocers long before Amazon came along.
Retailers often sell their house brands at lower prices than national brands. Costco (COST) began selling Kirkland Signature razors in 2018 after years of offering shoppers mostly more expensive Gillette products.
Private label products are usually designed to provide a downmarket alternative for shoppers. They also boost retailers' profit margins because the retailer gets to keep a bigger slice of the sale and spends less on advertising.
And they provide growth: Private label sales grew three times faster last year than national brand products, according to Nielsen.
Walmart (WMT) is known for its Great Value household products and packaged foods. Target (TGT) gets about a third of its yearly sales from its own brands, including Room Essentials and Market Pantry, and exclusive brands like C9 by Champion and Denizen from Levi's.
Analysts say Costco's Kirkland is one of the best store brands in the industry, spanning everything from vodka to golf balls.
"It is sometimes a valid way to grow a category when there are not great opening price points," said Keith Anderson, who advises top consumer products companies at digital consulting firm Profitero. "If there are shoppers who would buy batteries or cables, but they don't want to pay what Monster is charging, then a retailer might be able to convince those shoppers to spend on its own."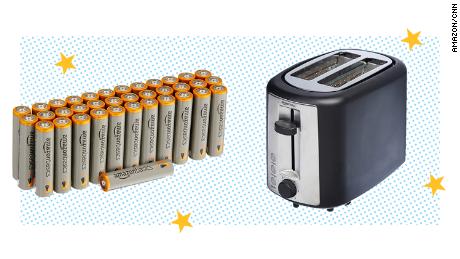 Beyond these benefits, Amazon is selling its own brands on the site to build customer loyalty.
Amazon brands like Mama Bear baby products are available solely to Prime members. These benefits could be a draw for the more than 100 million Prime subscribers worldwide and alluring to potential recruits.
Amazon may also be moving deeper into private labels to gain leverage over manufacturers that sell on its platform.
Amazon has its own army of products, and limitless space to sell other brands. So it doesn't depend on any one product to lure customers, the way a physical store does. That puts Amazon in a stronger position when it negotiates prices.
"Imagine going into any large store and not finding Tide, Fritos, or Colgate toothpaste on the shelf," said Bill Bishop, co-founder of the grocery retail consulting firm Brick Meets Click.
'Unmet market needs'
Although competitors have often targeted their private label efforts to offer generic products at lower prices, Amazon is plotting a different route.
It is focusing its private labels on big trends — natural and organic, sustainability, and environmental-friendliness — Anderson said.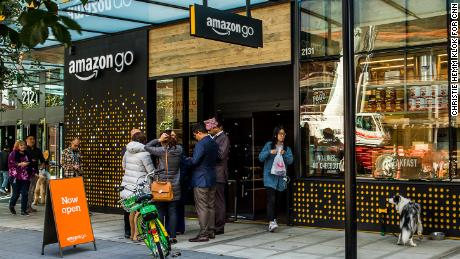 Mama Bear diapers are hypoallergenic and fragrance free. Wickedly Prime foods and drinks highlight "unusual flavors from around the globe." And Buttoned Down offers men 72 sizes of dress shirts.
During product development, Amazon, unlike almost all other retailers, has the ability to mine years of product reviews. It benefits from direct feedback from shoppers and knows what they like and dislike about items. That helps the company make decisions about important aspects like design and flavors.
With a stream of second-by-second data on which products shoppers click on or scroll past, and the prices that most effectively propel them to make purchases, "Amazon has visibility into unmet market needs that most other retailers would struggle to see," Anderson added.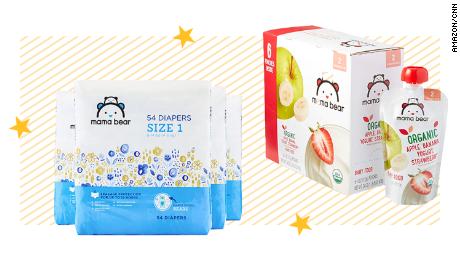 Vine Voices
High-star ratings and strong reviews strengthen Amazon's brands, too.
Both are important factors that help the company's private labels rank at the top of search pages and get more people to put those products into their virtual carts.
Amazon's Vine program invites selected customers to write reviews of new and pre-released items. Amazon charges manufacturers a fee to participate, but Amazon solicits Vine reviewers for all of its own products.
The company noted that AmazonBasics has a 4.28 rating out of 5, and more than a million reviews. Rivet, Stone & Beam, Amazon Elements, Presto!, Happy Belly, Peak Velocity, and Goodthreads are among other brands with a rating above four.
L2 studied "Amazon's Best Sellers" pages, and found that Amazon private labels that have earned the rank have a minimum of 400 reviews, four out of five ranking, and are cheaper than rival products.
Amazon wants its brands to earn the "Best Seller" badge because the ribbon appears atop the products on search pages, giving them an extra lift when shoppers make their purchasing decisions.
"Amazon's Choice," an algorithm-determined recommendation, is another distinguishing feature on search pages. Amazon's brands are starting to win the badge.
For example, when a shopper searches for paper towels, a 12-count of Presto! is Amazon's Choice. For batteries, AmazonBasics earns the designation. Same for diapers with Mama Bear. Winning the Amazon's Choice tag also benefits the company's private labels on the Echo and other Alexa products.
If you say, "Alexa, order me paper towels," the voice assistant defaults to a suggestion based on your past Amazon purchases. But if you've never ordered paper towels, Alexa will recommend one or two products through an algorithm. They're most likely to be ones with an Amazon's Choice badge, L2 found in a study last year.
On online search pages where Amazon's brands have not become top sellers or won the company's recommendation, Amazon has started to increase sponsored ads and banners for them. That puts it in direct conflict with manufacturers that rely on advertisements on pages to help distinguish themselves.
When searching for dish soap, for example, a banner runs across atop the page with a "Top Rated from Our Brands" flag that includes choices for Mountain Falls soap and Amazon Essentials.
"That's the kind of thing that starts to freak out suppliers," Anderson said. "It's a little off-putting to see a ribbon right below what you just paid for that says, 'Look at our products.' Brands are right to be skeptical."
Source: Read Full Article