As a Millennial Latina Lawyer, I Saw Ruth Bader Ginsburg as My Greatest Mentor—and I Didn't Even Know Her
Justice Ruth Bader Ginsburg's passing feels personal, and it is—because there is no me without her.
As a Cuban American and Puerto Rican lawyer, I saw myself in Justice Ginsburg. We both were first generation Americans, traveled with pocket-size constitutions, and frequently stayed up until 3 a.m. working. Justice Ginsburg was the representation I needed as I entered a career—and an industry—that was constructed without input from anyone who looked like me.
Women are outnumbered significantly by men in law and politics, "accounting for less than 7 percent of the world's leaders and only 24 percent of lawmakers" around the world, per the AP. As a female lawyer, I have been in more rooms than I can count where I was asked if I was an assistant, where I was laughed at when I said I was a lawyer, where I was spoken over, ignored, or told I looked like some famous Latina who was "hot." There is obviously still much work to be done to make spaces of power and influence more equitable—but Justice Ginsburg was proof that change is possible.
My own journey to becoming a lawyer started when I was just a kid. My birth parents divorced when I was 2 years old, and my father spent nearly a decade fighting to have custody of me and my brother. The last time we walked out of the courthouse was the same day I knew I wanted to become a lawyer to advocate for people like my father who were vulnerable to the system's blind spots.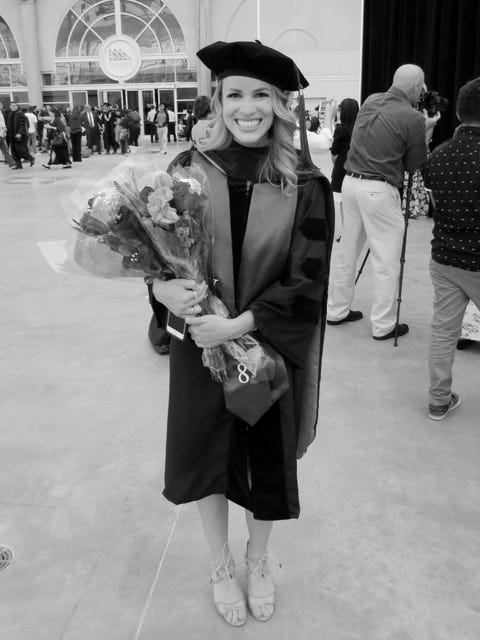 Thirteen years later, I started my first semester at the California Western School of Law and took an internship with the California Innocence Project. It was during this time that I was introduced to Justice Ginsburg while reading the famed SCOTUS case, United States v. Virginia. (This was the one in which she wrote that searing majority opinion, deciding that Virginia Military Institute, a previously all-male public university, had to allow women to be admitted.) Through that opinion, she helped me understand that the Equal Protection Clause of the 14th Amendment was not only about providing women with the same education afforded to men. It was also about protecting the rights of people the founders didn't even consider when writing "We the People" in the Constitution.
A year later, I began interning with the San Diego Public Defender's Office, where I later shared tears with a room full of activists after the 2016 presidential election. Because we suspected what we're seeing now would happen—a Trump administration meant a step away from democracy and toward an abusive regime. Shortly after the results, my supervisor, a fellow Cubano, asked me to litigate a Fourth Amendment border violation of a Mexican child who was immediately searched upon entering a checkpoint. For weeks, I threw myself into preparing a strong defense, hopeful that the constitution would protect against this racially motivated injustice. As the judge read his findings, I remember my legs feeling so numb, I could not tell if I was standing. It was not until the officers began to cuff my client's hands that I understood the reality of what had happened. My client paused for a moment, studying my face with a look of familiarity as we both held back tears, and said, "Thank you. I know you really tried." I left that courtroom apologizing to my supervisor. But he reminded me that he was glad he picked me to argue that case with him. I "was the exact person for the fight," he told me.
As a female lawyer, I have been in more rooms than I can count where I was asked if I was an assistant.
Justice Ginsburg will never know that she was the one who guided me through law school whenever someone said I should consider a different career because I was aiming too high. She will never know that while I was working two jobs on top of studying, she gave me the strength to endure sleepless nights to pass the bar. She will never know that her refusal to be subjected to the roles society wanted to impose on her was the truest form of mentorship. Most of all, she will never know that she was the one who convinced me that I deserve to be in the room where decisions are made.
When there are so few women at the top of the legal field, losing an icon like RBG is devastating. It means seeing less of ourselves in places like the Supreme Court and knowing there is one less person in power looking out for us. I certainly won't hold my breath for President Trump to do that.
Source: Read Full Article