Gutfeld: Ilhan Omar called the police 'dysfunctional,' but none of them married their brother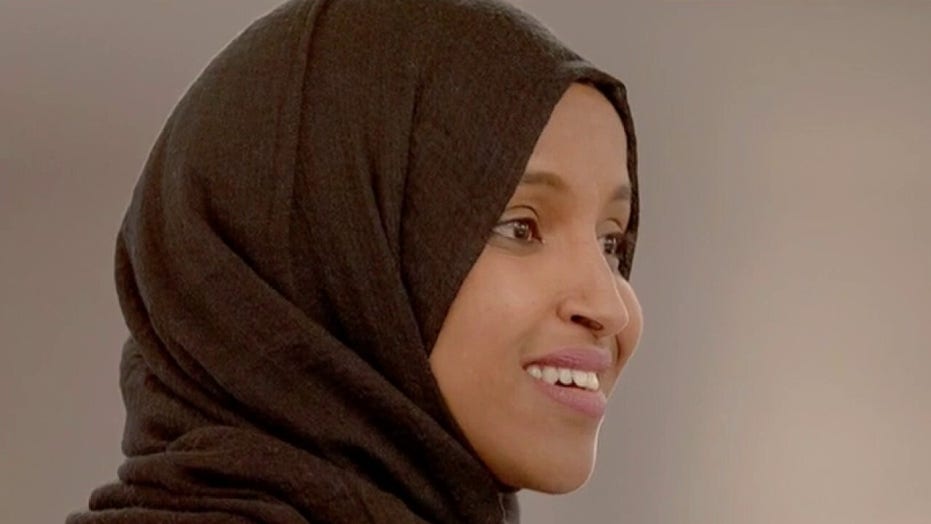 'The Five' blast Ilhan Omar's 'utter insanity' blaming rise in crime on cops
The panelists sound off on radical Democrats' push for defunding the police amid crime surges.
The hosts of 'The Five' rebuked Rep. Ilhan Omar, D-Minn., Tuesday for blaming the rise in crime in Minneapolis on a "dysfunctional" police department and for "not fulfill[ing] their oath of office."
"The police have chosen to not fulfill their oath of office and to provide the public safety they are owed to the citizens they serve," she said. "The Minneapolis Police Department is the most dysfunctional police department in our state and probably in the country."
"She called the police dysfunctional, but as far as I can tell, none of them married their brother," "The Five" co-host Greg Gutfeld quipped. "She's exactly the kind of leftist that you would design in a lab to subvert the American system. And the Democrats look like they're helpless bystanders shouting, 'You go, girl!'"
"Maybe the cops can't do their job because [arsonists] burned down the precinct," co-host Geraldo Rivera added.
"Other than her hating the police and all Jewish people, she clearly has a real hatred of…her constituents…because she's made their homes and their communities less safe through her demonization of the cops," co-host Dagen McDowell said.
Image 1 of 4

WASHINGTON, DC – MARCH 11: Rep. Ilhan Omar (D-MN) speaks during a news conference to discuss proposed legislation entitled Rent and Mortgage Cancellation Act outside the U.S. Capitol on March 11, 2021 in Washington, DC. The bill aims to institute a nationwide cancellation of rents and home mortgage payments through the duration of the coronavirus pandemic. (Photo by Drew Angerer/Getty Images) ____ Los Angeles, CA, Thursday, September 24, 2020 – People protest the Kentucky grand jury decision in the case of Breonna Taylors death by Louisville police. (Robert Gauthier/ Los Angeles Times via Getty Images) (Photo by Drew Angerer/Getty Images  |  Robert Gauthier/ Los Angeles Times via Getty Images)

Image 2 of 4

Flames from a nearby fire illuminate protesters standing on a barricade in front of the Third Police Precinct on May 28, 2020 in Minneapolis, Minnesota, during a protest over the death of George Floyd, an unarmed black man, who died after a police officer kneeled on his neck for several minutes. – A police precinct in Minnesota went up in flames late on May 28 in a third day of demonstrations as the so-called Twin Cities of Minneapolis and St. Paul seethed over the shocking police killing of a handcuffed black man. The precinct, which police had abandoned, burned after a group of protesters pushed through barriers around the building, breaking windows and chanting slogans. A much larger crowd demonstrated as the building went up in flames. (Photo by kerem yucel / AFP) (Photo by KEREM YUCEL/AFP via Getty Images) ( )

Image 3 of 4

An AutoZone store burns as protesters gather outside of the Third Precinct in Minneapolis Thursday, May 28, 2020. Police say a man captured on surveillance video breaking windows at a south Minneapolis auto parts store in the days after George Floyd's death is a Hell's Angels member who was bent on stirring up social unrest. Minneapolis police spokesman John Elder told The Associated Press on Tuesday, July 28, 2020 that the investigation remains open and active and that he could not confirm the name of the person involved. (Mark Vancleave/Star Tribune via AP) (Mark Vancleave/Star Tribune via AP)

Image 4 of 4

President Joe Biden walks back to the Oval Office after speaking to the 2020 and 2021 State and National Teacher of the Year recipients during an event on the South Lawn of the White House in Washington, Monday, Oct. 18, 2021. (AP Photo/Susan Walsh) (AP Photo/Susan Walsh)
Co-host Jesse Watters explained that Omar "paints her entire constituency as victims" to solicit donations and votes not to lift up her constituents, but ultimately to empower and enrichen herself.
"That's how she plays into white guilt," he said.
Gutfeld cited skyrocketing homicide rates and casual looting in "burnt out cities," saying that "Minneapolis is dead and they killed it."
Co-host Dana Perino explained that Democrats will find it "very difficult" to distance themselves from rising crime rates in the 2022 midterms. She also noted that Rep. Alexandria Ocasio-Cortez, D-N.Y., "is way too quiet" because she's "holding her powder dry" in an effort to pass the Build Back Better social spending bill as Democrats lose patience with President Biden.
Source: Read Full Article