Washington Set for Biggest Demonstration of Week: Protest Update
In this article
Washington officials are preparing for the week's largest demonstration after an 11th day of protests across the U.S. ended relatively peacefully.
Almost a dozen demonstrations are planned in the U.S. capital, the Washington Post reported. The Trump administration said it would withdraw active-duty troops from the area after D.C. Mayor Muriel Bowser said they were inflaming tensions.
New York City Mayor Bill de Blasio said Saturday he had suspended two officers without pay for using excessive force. He also made clear that the protests wouldn't delay the start of the city's reopening on June 8.
Police in Portland, Oregon, arrested 20 people while clearing an area of downtown. Meantime, officials around the U.S. curbed police tactics, including chokeholds, tear gas, rubber bullets and other "less-than-lethal" force.
Key Developments:
Trump Assails Twitter After Campaign Video Pulled
Black Unemployment Rate Rises While White Joblessness Falls
Michael Jordan Donates $100 Million to Racial-Equality Causes
Troubled Minneapolis Legacy Fanned Flames Over Floyd's Death
Atlanta Protests Reveal Divides in Bastion of Black Success
Here's the latest. All times are New York-based:
NYC Mayor Suspends Two Officers (9:15 a.m.)
New York City Mayor Bill de Blasio said on Saturday he had suspended two officers without pay for excessive force.
The incidents, he said, "stand apart from the restrained work of the thousands of other officers who have worked tirelessly to protect those who are peacefully protesting."
One officer was seen on video pushing a woman to the ground in Brooklyn on May 29, the mayor said. The second pulled a protester's mask down the next day and pepper-sprayed him.
Portland Police Make 20 Arrests (7 a.m.)
Police in Portland, Oregon, arrested 20 adults and detained one juvenile after some people failed to leave a closed downtown area. Bricks and bottles were thrown at officers, police said.
Oregonian photographer David Killen said police crossed a fence to push back a crowd of several thousand and may have fired pepper spray.
"Tonight's events revealed an escalation in focus, violence, and weaponry directed at public safety officials," Portland Police Chief Jami Resch said in a statement. "Lives were at risk; our officers deserve better."
Washington Expects Tens of Thousands (4 a.m.)
Tens of thousands of protesters are expected in the nation's capital. Police will close much of downtown to vehicle traffic from 6 a.m., the Washington Post reported. No one organization is leading the events.
With the temperature forecast to rise to 91 degrees Fahrenheit (33 Celsius), some churches and theaters have said they will open their lobbies so people can cool off, the Associated Press said.
Paris Police Ban Protest Over Virus Fear (3:51 a.m.)
Police cited a risk of spreading Covid-19 and fears of public unrest, the Associated Press reported. Social distancing regulations ban gatherings of more than 10 people. Online posts called for people to gather Saturday afternoon near the Eiffel Tower. Paris police had previously also banned two other planned gatherings Saturday outside the U.S. Embassy.
In the U.K., where anti-racism demonstrations are expected in Parliament Square in London and in other cities, people were reminded of rules to stay 2 meters (6.5 feet) apart and gather in groups of no more than six people. The virus outbreak remains a "real threat," Health Secretary Matt Hancock said Friday.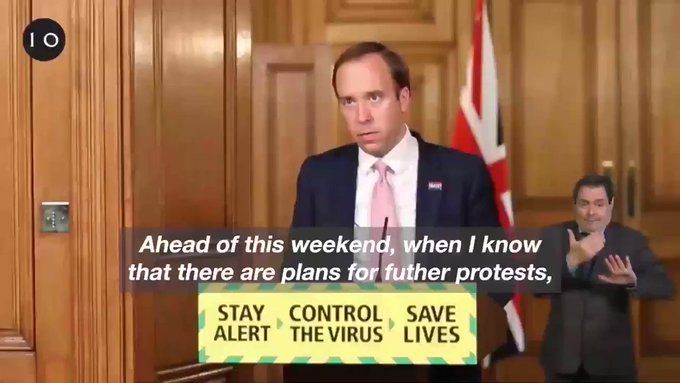 By playing this video you agree to Twitter's use of cookies
Denver Police Told to Stop 'Less-Than-Lethal' Force (1:30 a.m.)
Denver's police were ordered by a U.S. District Court judge to stop using tear gas, plastic bullets and other "less-than-lethal" force such as flash grenades against protesters, Reuters reported.
Denver Police Department earlier launched an investigation of a viral video recording showing officers shooting pepper balls "at a vehicle stopped in traffic" near the state capitol, according to the department's Twitter account.
In the video, the driver stands beside his car shouting "you shot a car with a pregnant woman in it." The police fire again after the man hurls obscenities and "shoot it again." The car drives off.
LAPD Sued Over How it Handled Protests (12 a.m.)
A coalition of criminal justice activists and homeless advocates sued the city of Los Angeles over how the police dealt with the recent demonstrations, the Los Angeles Times reported. They accused officers of shooting a homeless man in the eye with rubber bullets and holding others for more than 12 hours for curfew violations.
The suit also accused the police department of violating the right to assemble and for excessive force, the paper said.
Earlier, Mayor Eric Garcetti tried to diffuse tensions with the police force after cutting its budget following the riots. The police union said officers have lost confidence in the mayor's ability to lead after comments he made describing them as "killers," the paper reported.
"When I talked about killers, I talked about our collective burden in the city," he said at a briefing. "I absolutely did not say that about the league, about police officers, and I won't have those words distorted."
He added that social inequality has a stark impact on society — someone born in Watts, known for one of the worst riots in the city's history, would live 12 years less than someone in Bel Air, one of the wealthiest neighborhoods.
Citibank to Close Some Branches (12:40 a.m.)
Citigroup Inc. said it would "proactively" shut some branches and cut hours at others amid the U.S. protests that have at times turned violent, Reuters reported.
Some branches were damaged during recent demonstrations, Reuters said, citing Head of U.S. Banking Anand Selva's email to customers. "We are actively working on repairs and assessing the situation carefully to re-open these branches," he said.
Barr Didn't Give Order to Clear Protesters (8:05 p.m.)
U.S. Attorney General William Barr told the AP that law-enforcement officers were already working to push back protesters from a park in front of the White House when he arrived there Monday night, and that he didn't give an order to disperse the crowd, though he supported the decision.
— With assistance by Ian Fisher
Source: Read Full Article